Pedro and Inês lived what is still now considered as the most beautiful and tragic love story that ever existed on this Earth.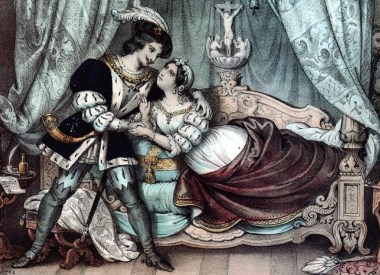 Let's go back to the 14th century. Dom Pedro is the son of King D. Afonso IV and the heir to the throne. Dona Constança, belonging to the Castilian nobility, is chosen as his wife. When she arrived to Portugal for her wedding, the bride was accompanied by her ladies-in-waiting. Among them was the Galician Dona Inês de Castro, Constança's close friend.
Inês de Castro's great beauty amazed the Court. Although he was married to Dona Constança, Dom Pedro fell in love with Inês and the feeling was mutual. The couple lived an unprecedented adulterer romance.
Dona Constança, Dom Pedro's spouse, died giving birth. Now widowed, the crown's heir felt free to live his romance and marry Inês, but the King never allowed it. However, it is said the couple secretly married and that Inês was Pedro's lawful wife. The two lived together in Coimbra and had several children.
The influence that Dona Inês de Castro's brothers appeared to have in Pedro and the danger of the bastard children taking the place of the legitimate heir, son of Dom Pedro and the deceased Dona Constança, started to frighten the King. Therefore he ordered Inês' death. A group of men murdered Inês and it is said that she was stabbed or beheaded in front of her children, begging the King and her killers for mercy.
Legend has it that in Quinta das Lágrimas in Coimbra, where Inês was killed, the red spots we now see in the Lágrimas (Portuguese for tears) Fountain, are the stains of her blood.
Dona Inês' death left Pedro devastated and furious. It's said that he was willing to start a war with his father but his mother pleaded for peace. Although he promised not to persecute the men responsible for Inês' death, as soon as his father died and Dom Pedro was named King, he arrested the killers.
Pedro's anger was incredible and his biggest wish was to have revenge for his lover's death. The assassins were tortured and Dom Pedro inflicted them a macabre death by ripping their hearts out of their chest and back. Legend has it that he did it with this bare hands and that he even ate the hearts.
Naming Inês as the Queen of Portugal, it is also said that Dom Pedro exhumed his lover's body, dressed it in the finest clothes, put her in the throne, crowned her and made the nobility kiss Inês' hand.
Dona Inês was initially buried in Coimbra. However, Pedro ordered that a tomb worthy of Inês' royalty was built. Dom Pedro's tomb would later join her.
The two lovers were buried in Alcobaça Monastery, worthy of receiving the King and Queen's remains. Considered by many as the most beautiful tombs in Portugal, they are a splendid masterpiece of gothic style. With an intricate decoration filled with details, they showcase realist representations of the couple. The tombs are facing each other so that when the day of the Last Judgment comes, the two lovers will quickly see each other.
Visit Coimbra and Alcobaça and come walk the path of Pedro and Inês' love story. Make sure to discover the many other legends and charms that Portugal has to offer. Get to know our private tours and make sure you'll have a memorable travel to Portugal!